"I never intended to become a teacher," Robert Gabriels, teacher of electrical automation at Atlas College in Belgium, says with a laugh. He did become a teacher, and later on, he also became an important mobility partner for Sataedu. During the past ten years, Robert Gabriels has visited Sataedu once or twice a year. The visit in August is already his third visit in 2019. No wonder the experienced Belgian teacher almost regards Sataedu as a second home. If his original plans had come true, the numerous visits to Sataedu would not have been made.
"I never intended to become a teacher; I completed my engineering studies and wanted to get on. My parents, however, encouraged me to have a try with the teaching job I was offered. I noticed I liked it and have been a teacher of electrical automation since then," says Gabriels.
The career choice was successful, which was also proven by the victory of his students in an automation competition. After this victory, Gabriels felt he should also be pursuing this kind of cooperation in an international, European context.
For his first European project, he needed one partner from Northern, Central and Southern Europe respectively. Sataedu was chosen as the northern partner. Practical cooperation with Sataedu, and particularly with its then Vice Principal Marko Kemppinen, commenced at the beginning of 2009. Gabriels considers Sataedu a reliable partner.
"Over the past years, I have had several projects in various countries. I appreciate the cooperation with Sataedu. Projects have mostly progressed in mutual understanding, and cooperation has been pleasant. The open atmosphere and attitude have been helpful in problem solving."
He says that cooperation with Marko Kemppinen, Sataedu's Head of International Affairs, has been successful owing to their good interaction. They help each other. Mutual understanding is also facilitated by their very similar education and teaching experience in electrical automation.
He thinks cooperation with working life is similar in Belgium and in Finland. He has brought Belgian students to complete on-the-job learning periods in Sataedu's partner companies. Young Belgians have been acquainted with companies such as Satmatic and Utu. One cooperation project concerns the MeWeT home, a research, development and learning environment for welfare technology constructed in Sataedu's unit in Ulvila. Gabriels' students have been working on it with Sataedu and Satakunta University of Applied Sciences.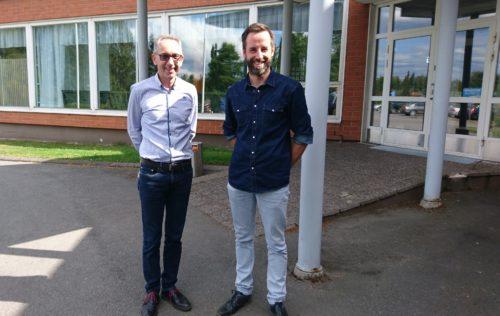 Photo:  Robert Gabriels (left) ja Jan Thijs
Different ways to educate
Robert Gabriels was accompanied by Jan Thijs, an English teacher and ambassador for eTwinning in the same school as Robert Gabriels (Atlas College in Genk).                                                                                                               In 2013 Thijs visited Sataedu the first time with the aim of becoming acquainted with Finnish education and mobility projects. He already knew about Sataedu owing to the eTwinning cooperation with the English teacher Johanna Palmgren.
"Because of scarce funding, my internationality work has so far been limited to what is enabled by information networks. My classes have had partner classes in different parts of Europe, and we have shared lessons via Skype. English has always been the language of instruction, but the topics of the lessons have varied, ranging from the well-being of students to history and culture. When Robert asked me to join him on this visit, it gave me an opportunity to get to know your practices better," Thijs explains.
Even after this brief introduction, Thijs says he appreciates the Finnish educational system which is more flexible than the Belgian system.
Regarding the successful collaboration with logistics' teachers in Sataedu over the past years, Thijs says…
"In Finland, teachers are paid for their internationality work and for providing guidance to outgoing exchange students. In Belgium, teachers do this out of passion and enthusiasm, practically sacrificing our own leisure time."
Thijs praises the Finnish teaching model based on periods. He would be interested in teaching English in intensive 10-week periods; in Belgium, language lessons take place on a weekly basis throughout the studies. Other differences in other countries' teaching models are also easy to find. However, he emphasises that they are only differences. Things are not done better or worse, they are just done differently.
"In Belgium, there are more rules. Students are not allowed to use mobile phones or wear body jewellery in the classroom. At Sataedu, students do not wear shoes in the classroom," Thijs mentions some examples and adds that Belgian students like the freedom of Finnish education. On the other hand, they are astonished by the quietness of schools and their surroundings. "In Belgium, schools have more students and, therefore, there is also more noise. Most students have a multicultural background and they communicate and behave accordingly, which sometimes makes the teacher's work more difficult," he says.
Do you want to learn more about student exchanges and mobility projects at Sataedu and Atlas College?
Follow their social media channels.
Sataedu
Facebook: Sataedu SATAMOVE, Sataedu Internationalization
Atlas College
Facebook: atlasmovers
Instagram: atlas.movers
Click here if you want to read Finnish version.